Day Late
&amp

Dollar Short
Inventing apps for iOS, Mac, ... and you!
Are You (User) Experienced?
iChing [Plus] and iTarot [Classic]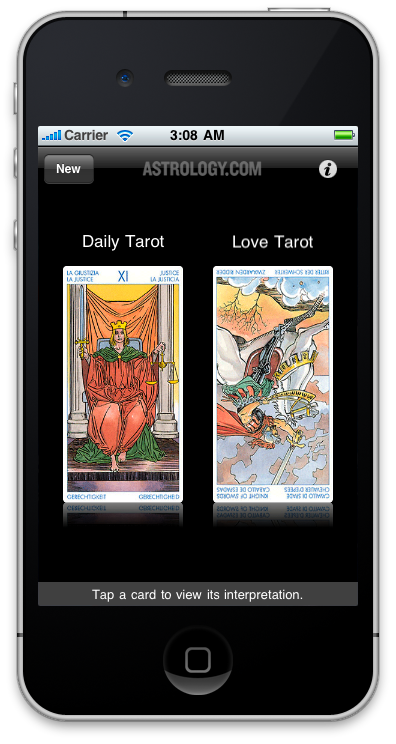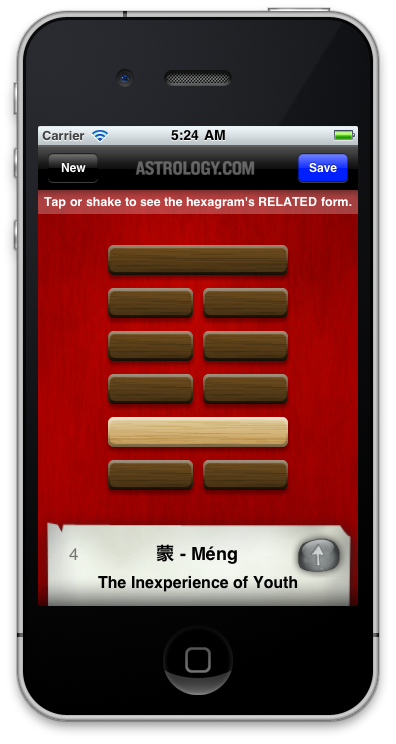 The Astrology.com folks (again!) wanted iPhone apps based on two features of their web site —"[I Ching] Hexagram of the Day" and "Tarot Card of the Day"— to join iScopes in the App Store when it opened.
An engaging app experience on the exciting new iPhone platform demanded much more than simply showing a single, static, impersonal "Item of the Day" grabbed from the site. I chose to design a pair of apps —iChing & iTarot— that were interactive, touch-friendly, and personal: the user could cast her own I Ching hexagrams or draw her own cards from the tarot deck.
The apps are also self-contained, with graphics and info bundled on the device. This fact facilitated far more fluid & responsive designs than would have been possible by constantly communicating with a web service; just as importantly, it contributed to the notion that the user owns what she has purchased. Again, one's relationship with the app becomes more personal.
iChing eventually evolved, as iChing Plus, to include a full hexagram reference, as well as a casting history. It's now a pocket resource on the basics of this classic lore, and I'm quite pleased with the result ... even though I don't believe a word of it.
iTarot —now iTarot Classic— remains far less ambitious (I wrote it in less than a week!); Astrology.com chose to license a previously-existing app to provide a more-complete, and more-complex, experience under the iTarot name. (That said, "Classic" returned to the App Store by popular demand of customers who seemed to appreciate the simple interface.)
---
Day Late & Dollar Short, DL&DS, DL'n'DS, tricochet, the triple-ricochet motif, CueType, Trigger, Tri, piClock, Solly, and Cross Eyes are trademarks of B.D.S.McConnell. iPhone, iPad, and Mac are trademarks or registered trademarks of Apple, Inc.